1) Introduction
I have a new TabletPC. I bought it 6 months ago and I'd like to introduce the concept to those who don't know it yet and
I'd like to present my laptop to those who are interested in this type of computer.
2) Definition
What is a TabletPC? Basically, it's a laptop where you can write on it with a pen or your finger.
There are 2 sorts : slate and convertible/hybrid . Each one has his pros and cons.
Slates have no keyboard but are usually smaller in volume and weight. Convertible tablets have a keyboard but are bigger
and generally more resistant. Slates and convertible tablets can have different type of screen : touch screen,
electromagnetic screen, both or multi-touch screen. The screen is a very important spec in TabletPCs because unlike a normal
laptop, you'll have to write on it! According to your needs, you will choose a touch screen if you want to write with your finger
or an electromagnetic screen if you want to use a stylus and if you need a more accurate handwriting capture.
3) HP's TabletPC history
HP 2710p is the 6th TabletPC made by HP and Compaq. They began with TC1100 which is a hybrid with a 10.4" electromagnetic
screen and continued with TC4200 and then TC4400, others hybrid with a larger screen (12.1") and a more powerful processor,
their little brother (I don't remember the name) which was a more resistant version of TC4200. The last one before my
computer was the TX1000, an attempt to introduce TabletPCs in the public world but, in my opinion, it has done the opposite.
It was a heavy 12.1" touch screen with a 2 hours battery. The concept of a TabletPC wasn't followed and the product didn't sell.
Then comes mine, a hybrid with an 12.1" electromagnetic screen designed for business. And finally, the last HP's laptop
TX2000 series is designed for home use. It's a convertible TabletPC with a 12.1" electromagnetic and touch screen with a very
powerful processor.
4) HP 2710p Specifications
Operating system
Genuine Windows Vista® Business
Processor
Intel® Core™ 2 Duo ULV Processor U7600 (1.2 GHz, 533 MHz FSB, 2 MB L2 cache)
Chipset
Mobile Intel® GM965
Memory
2 GB 667 MHz DDR2 SDRAM
Memory upgrade
Upgradeable to 4 GB maximum (2 GB SODIMM in slots 1 and 2)
Memory slots
2 SODIMM slots
Hard drive
100 GB 4200 rpm SMART PATA
Display size
12.1-inch diagonal Illumi-Lite, WXGA, UWVA anti-glare with Digitizer
Graphics
Mobile Intel Graphics Media Accelerator X3100, with up to 384 MB shared system memory
Integrated camera
Integrated 2 MP camera (1600 x 1200 max resolution) on select models
Ports
2 USB 2.0
1 1394a
1 battery connector
1 microphone in
1 headphone/line-out
1 docking connector
1 RJ-45
1 RJ-11
1 external VGA monitor
1 AC power
Slots
1 Express Card/54
1 secure digital
Audio
Integrated mono speaker
Integrated microphone
Network interface
Integrated Intel Gigabit Network Connection (10/100/1000 NIC)
Modem 56K V.92
WIFI Intel 4965 802.11a/b/g
Bluetooth 2.0
Weight
3.7 lb (1.68 kg)
Dimensions (w x d x h)
11.42 x 8.35 x 1.11 in (290.00 x 212.00 x 28.20 mm)
Battery
6-cell (44 WHr) high capacity Lithium-Ion
Security management
HP Fingerprint Sensor
Windows Security Button (pen-activated Ctrl-Alt-Del)
Warranty
3 years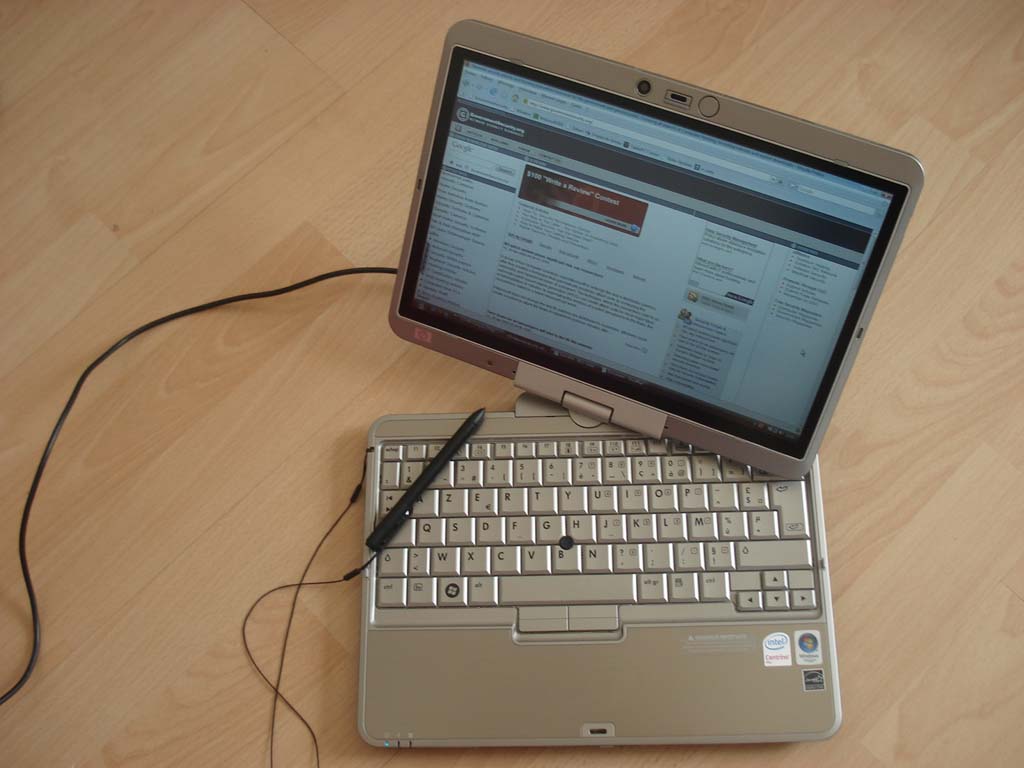 Global view of the 2710p
It has a clean and solid design.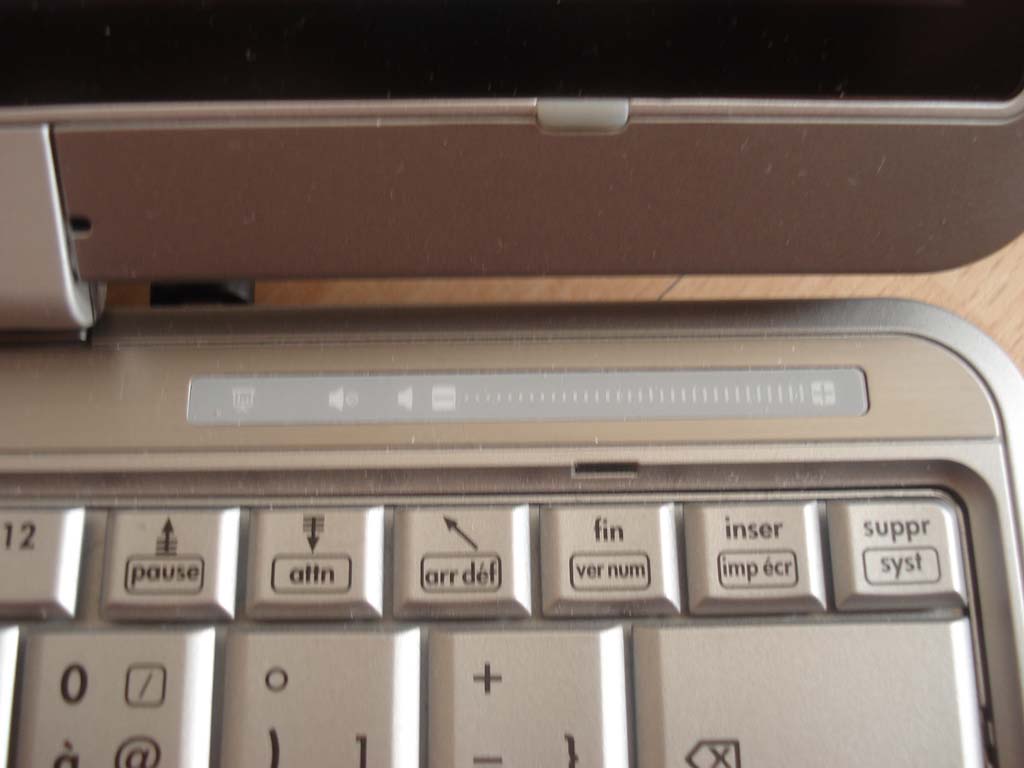 From left to right : Touch sensitive application launcher, mute, volume manager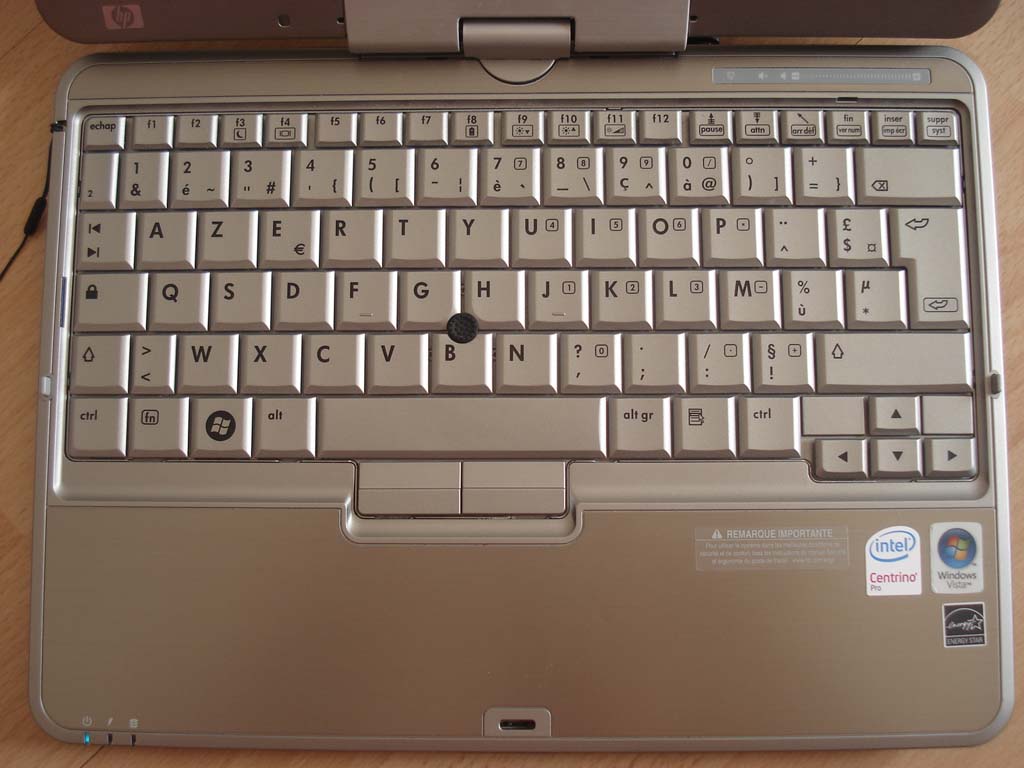 View of 2710p's keyboard.
There's only a trackpoint and no touchpad. It's not easy to use but you'll accomodate with it in no time.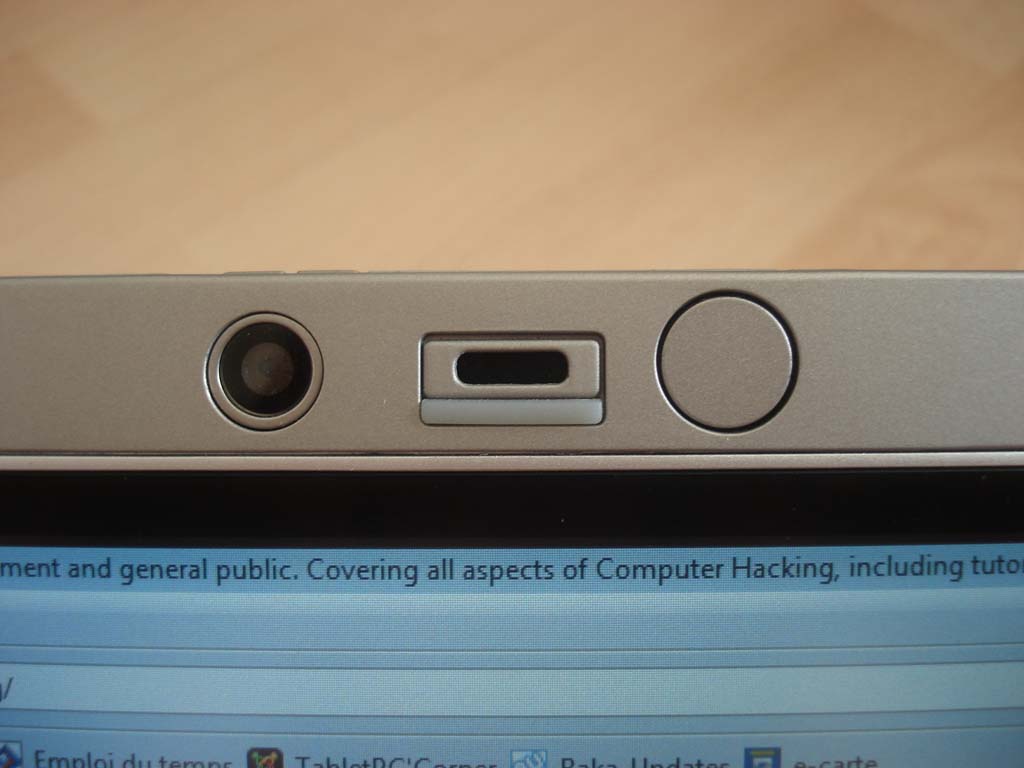 There are a webcam and a light at the top of the screen. The webcam is useful for video conferences and has a good resolution.
The light is a gadget which let you to see your keyboard at night (not very useful).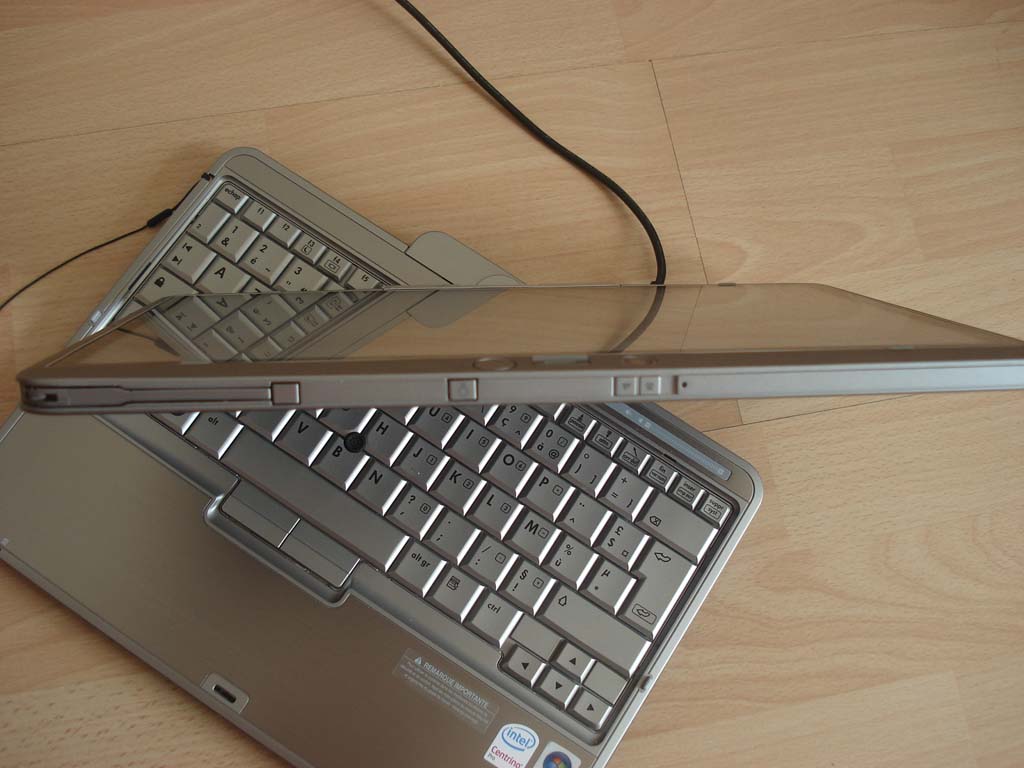 Top of 2710p's screen.
From left to right: A built-in antenna for mobile broadband, light on/off, webcam macro/normal mode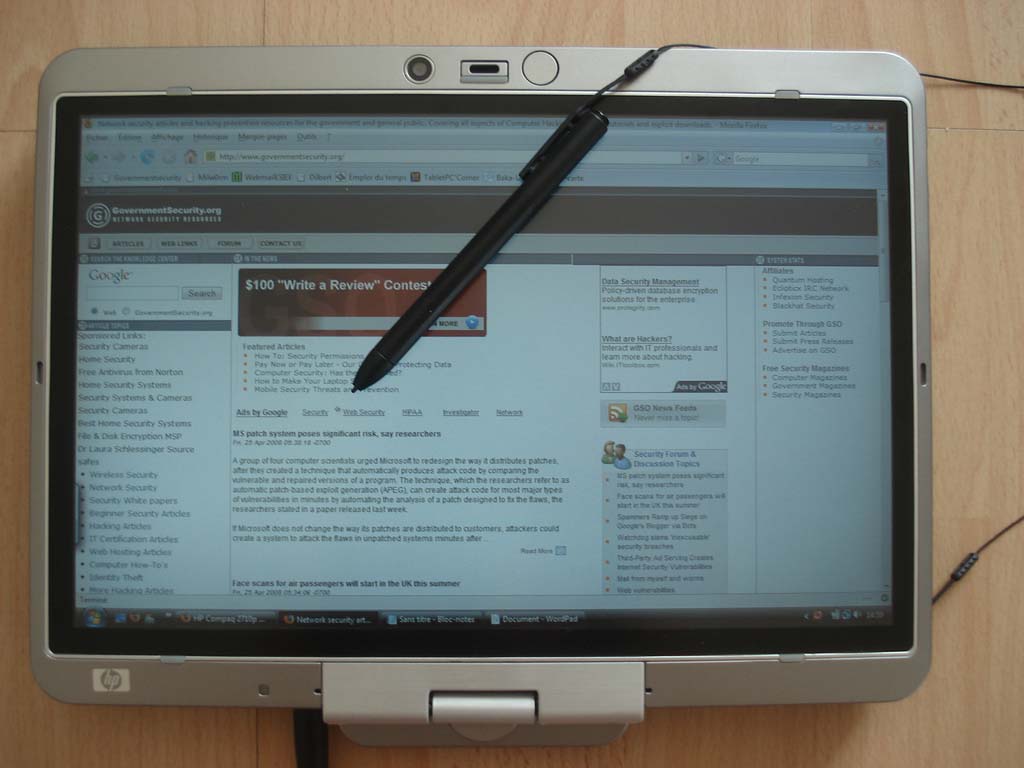 View in Tablet mode.
Tablet mode is very comfortable, you can grab the screen easily. At the left bottom corner, there is an ambient light sensor which
controls the screen luminosity and 2 microphones. The screen rotates automatically but you can change its orientation manually if you want.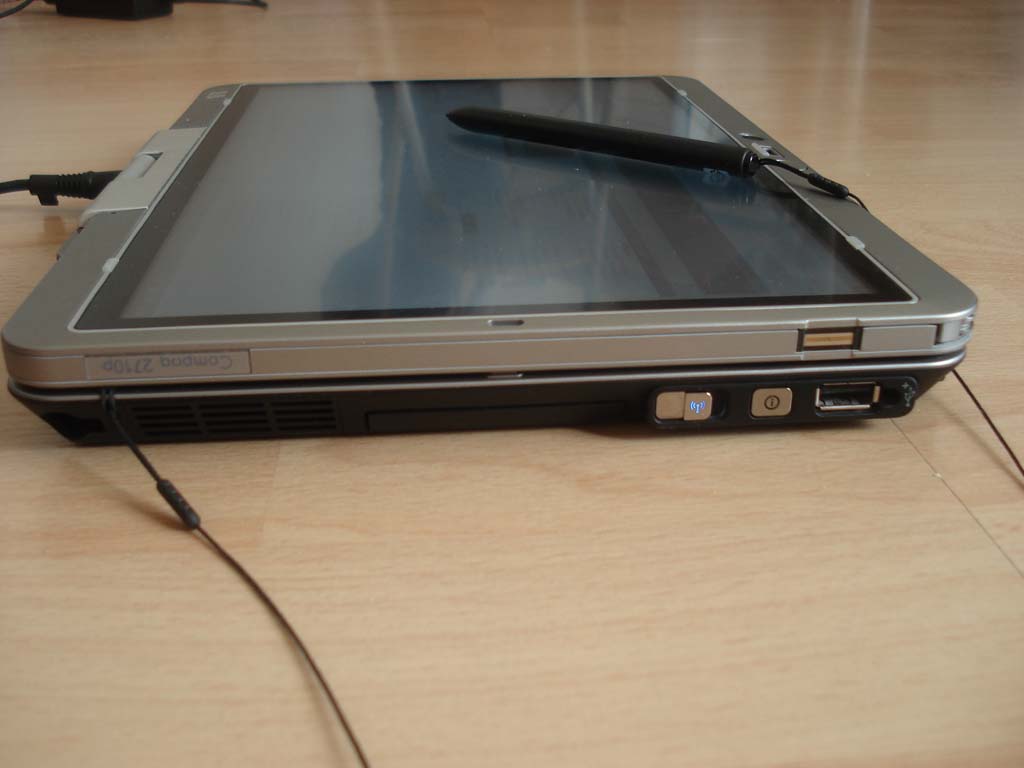 Left view.
Fingerprint sensor, WIFI and bluetooth switch, application launcher, USB port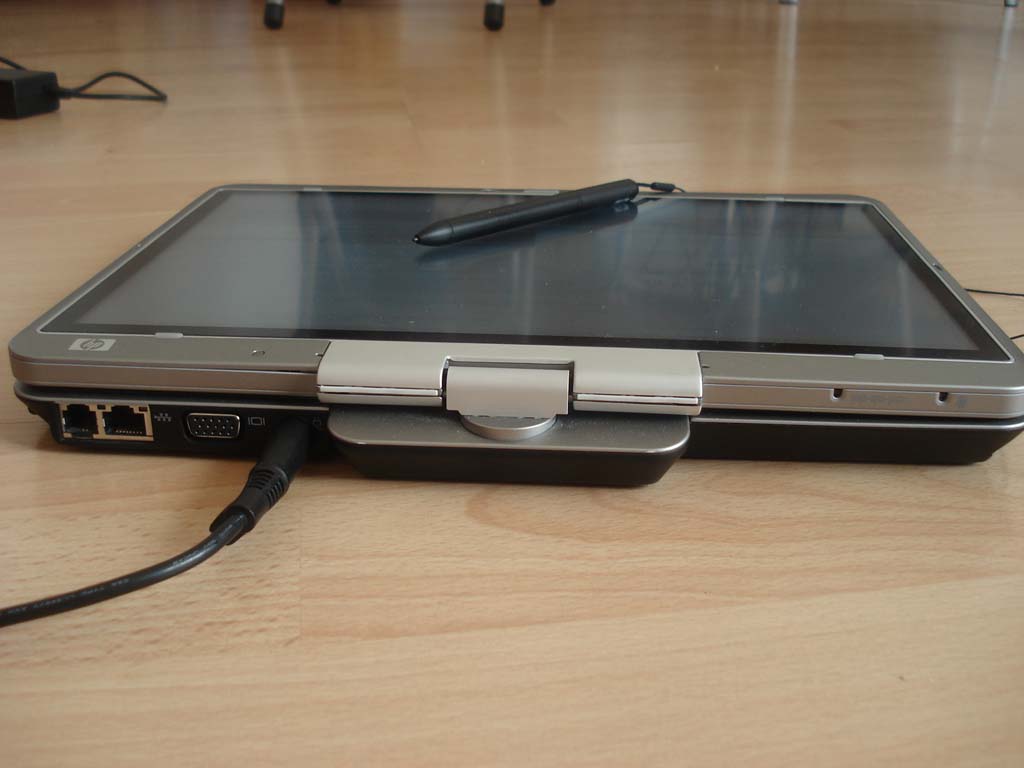 Rear view.
RJ11, RJ45, VGA output, power input.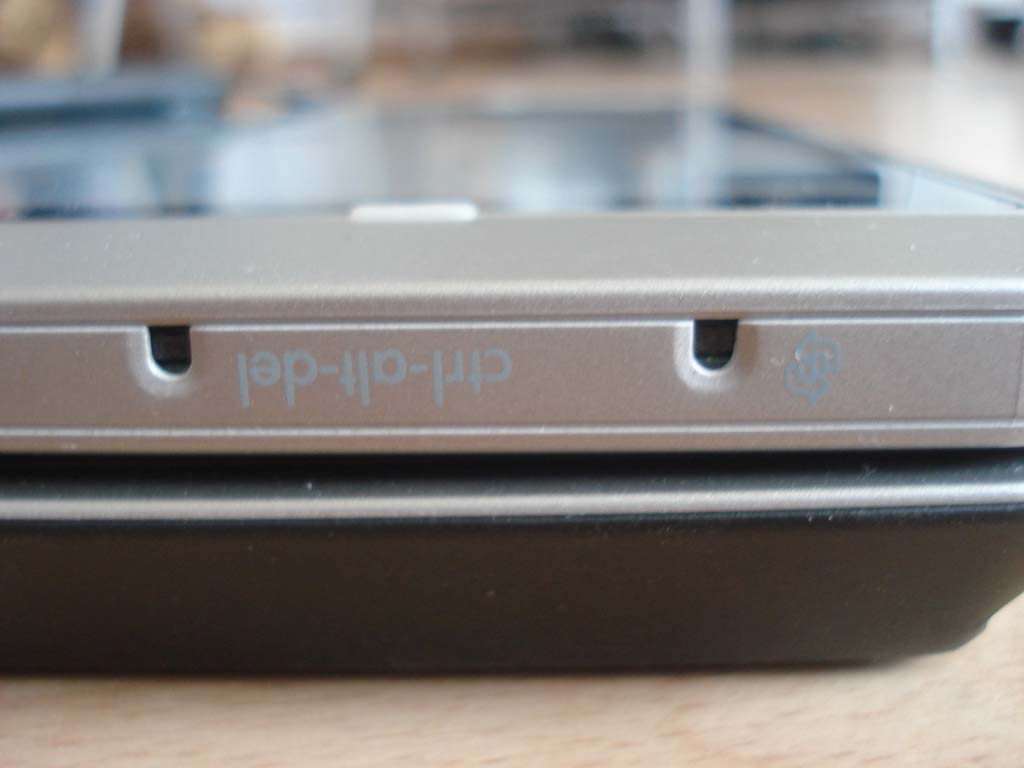 Rear view.
Pen-activated buttons (Ctrl+Alt+Del and rotate screen)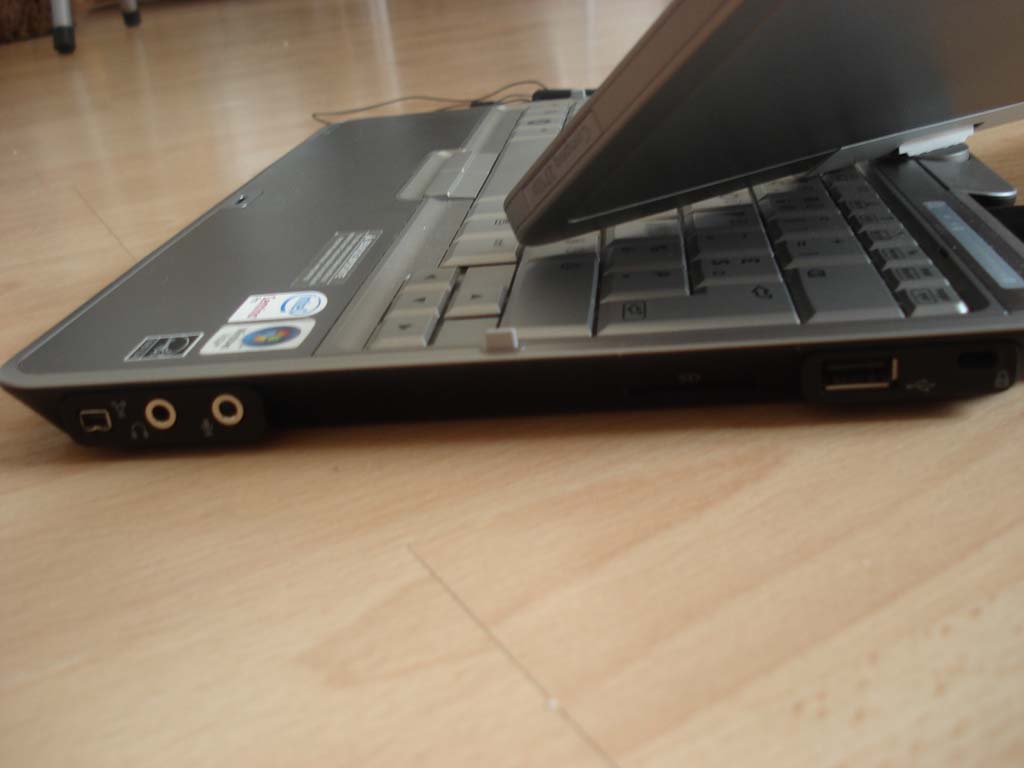 Right view.
Firewire, headphone output, microphone input, USB, SD card reader and kensington lock slot.